Once every three years, youth and young adult Catholics from around the world come together to celebrate World Youth Day, a worldwide encounter with the Pope. WYD is open to all young people who want to take part in a festive encounter centered on Jesus Christ together with their peers. It is an opportunity to personally experience the universality of the Catholic Church, and to share with the whole world the hope of many young people who are committing their lives to Christ and His Church.
This year's World Youth Day was held in Lisbon, Portugal.
"WYD 2023 with Pope Francis truly showed how universal the Catholic Church is. People from around the world, speaking different languages, different nationalities, and cultures came to WYD with one commonality — God being our Father," said John Paul Brissette, a member of the National Youth Committee. "Just being in the city with millions of young Catholics praying, praising, and signing was a sight and a feeling I will never forget. Although we may be speaking different languages, we are all saying the same thing."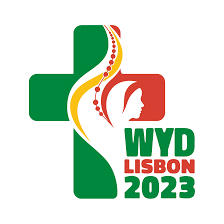 "My favorite part of the World Youth Day experience was being able to visit the Basilica of Our Lady of the Rosary of Fatima in Fatima, Portugal," said Luna Mata, Development and Communications Coordinator for SVdP Dallas. "Visiting the place where our Blessed Mother stood and taught us so much was incredibly humbling and beautiful."
In collaboration with World Youth Day, the International Society of St. Vincent de Paul took the opportunity to gather its young people together in celebration of the Vincentian Charism. This gathering was called The International Vincentian Youth Meeting (ICYM) and the theme was "I am neither from here nor from there, but from wherever God wants me to be." The theme was inspired by a sentence from St. Vincent de Paul to the Daughters of Charity in 1634.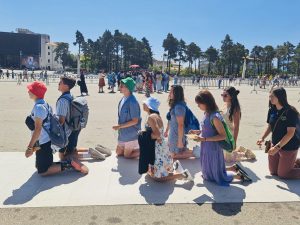 As part of these celebrations, the U.S. Council sponsored a number of Youth and Young Adults to travel to Portugal and participate in these special events.
"Before we attended World Youth Day, we had the privilege of attending the Vincentian Family Gathering where we had the opportunity to share our Vincentian Charism with other Vincentians from around the world," said John Paul. "We discussed common struggles Vincentians face and tried to work toward solutions together. The weekend was filled with friendship, services, and spirituality."
"We followed in Mary's footsteps with 'haste' throughout World Youth Day, so ending with this spiritual blessing and joy from our Mother was incredible," said Luna.
We are so blessed that the SVdP U.S. National Council was able to be a part of this experience. It was a transformative experience for all the young people who participated. They returned with renewed zeal for their Catholic faith and those that attended on behalf of SVdP have a renewed dedication to the Vincentian mission. God bless all who participated!
The next World Youth Day will be held in Seoul, South Korea in 2027.