Dear Vincentians,
Recently, SVdP Disaster Services Corporation held a "Better Together" Long-Term Recovery Committee event. Long-term recovery groups, disaster case management agencies, and community-based organization that had actively been involved in recovery efforts for Hurricanes Ian and Nicole gathered at the American Red Cross of Greater Orlando. Hosted by Florida Voluntary Organizations Active in Disaster (Florida VOAD), in partnership with World Renew, the event showcased the power of collaboration in building resilient communities.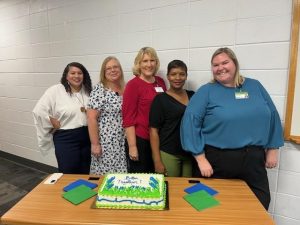 Notably, the event featured distinguished presentations from UMCOR (The United Methodist Committee on Relief) and Presbyterian Disaster Assistance. The "Better Together" event was designed to provide a platform for stakeholders to come together, exchange knowledge, and participate in valuable training sessions. Through interactive workshops and networking opportunities, attendees gained valuable insights into improving long-term recovery frameworks across Florida.
Impact of Hurricane Ian
Hurricane Ian wreaked havoc on southwest Florida and  damages totaled more than $112 billion, making it the costliest hurricane in Florida's history and the third-costliest in United States history. Hurricane Ian was responsible for over 150 deaths, with the passage of the storm through Cuba and the southeastern United States being particularly deadly. Florida was the hardest hit, where 149 people died, the majority from drowning in the high storm surge.
Addressing the Needs of Families
One of the key topics covered during the Better Together event was "The Big Picture – Families in Need." Participants explored the unique challenges faced by families affected by the hurricanes and brainstormed innovative solutions to better serve them in their journey towards recovery.
Building the Puzzle of Coordination
Another crucial aspect of the event was "The Puzzle – How Do We Coordinate Together." Recognizing that effective collaboration is essential in disaster recovery, participants engaged in discussions to identify best practices and strategies for working together seamlessly.
Uniting at the Unmet Needs Table
To strengthen the response to unmet needs, participants took part in a tabletop exercises titled, "Coming Together at the Unmet Needs Table." Through this exercise, participants collectively explored ways to enhance support and resources for those still in need after Hurricanes Ian and Nicole. In the face of this unprecedented disaster, the "Better Together" Long-Term Recovery Committee emerged as a unifying force. The event was a powerful platform for stakeholders to unite, exchange knowledge, and strengthen their efforts towards long-term recovery.
Leadership and Guidance
The training sessions were led by Shanon Granado, Regional Program Manager for the Disaster Case Management program in Florida. With vast experience in Disaster Case Management and a background in leading FEMA-funded state programs, Shanon's expertise greatly enriched the discussions and activities during the event.
SVdP–USA Disaster Services Corporation, SVDP-USA's Impact
As a key participant, the SVdP–USA Disaster Services Corporation played a crucial role in supporting the community through this event. They were actively engaged in the training, workshops, and networking opportunities, reaffirming the organization's commitment to being there for those in need. At Disaster Services Corporation, we remain steadfast in our commitment to supporting communities affected by natural disasters. Our dedication to the well-being and resilience of the communities we serve remains unwavering.
Special Thanks
We extend our heartfelt thanks to Shanon Granado for her leadership, and we appreciate the enthusiastic engagement and contributions of all participants, including Long-Term Recovery Groups, Disaster Case Management Program Agencies, and Community-Based Organizations, which made the event a resounding success.
Looking Ahead
The "Better Together" Long-Term Recovery Committee marks the beginning of a collaborative effort to strengthen Florida's long-term recovery framework. We are excited about the positive impact we can collectively make in the lives of families affected by hurricanes.
Stay tuned for further updates and upcoming events as we continue to work together towards a better, more resilient Florida.
Thank you for your continued support in our mission to make a difference in the lives of those affected by disasters. Together, we are truly "Better Together."