Last week, nearly 200 Vincentians gathered together in St. Louis for the first in-person Midyear Meeting since 2019.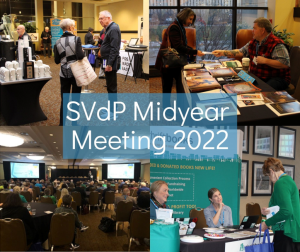 It was a wonderful opportunity for the National Board of Directors, National Council Members, Executive Directors, and other Vincentian leaders to come together and share ideas after a three year hiatus.
While it was very exciting to have so many Vincentians in one place, we realize there were still those who were unable to join in-person. In order to give those not in attendance the chance to see the various presentations from the Midyear Meeting, we have created a playlist of the video recordings from the meeting. You can access them by clicking here. You will find recordings of the following:
We thank all who attended Midyear or took part via zoom. We look forward to seeing you all in Baltimore for the 2022 National Assembly!