The Stores Corner was added to the e-Gazette in 2022 to be a helpful resource on various topics for all SVdP Thrift Stores staff and volunteers.
This edition of the Stores Corner is to explain the purpose of the National Stores Committee and to list the volunteer committee members by region.
The Society of St. Vincent de Paul's Thrift Store Committee is dedicated to helping our Thrift Store personnel (both paid and unpaid), to develop and maintain successful Thrift Stores to support the Society's mission most effectively.
The Thrift Stores Committee members are a group of individuals who generously volunteer their time to be of service to other SVdP store personnel throughout the country.
Most of the Thrift Stores Committee members are women and men who work full-time in jobs helping to run successful stores in their own region.
Stores committee members represent single store locations and multi-store locations.
Committee members are here to serve you.
You might have questions about Point of Sale (POS) systems, how to increase donations, cash handling processes, volunteer/staff recruitment, on-line sales, social media, human resource topics, etc.
Please reach out to a committee member if you have questions. If they don't have an answer for you, they will reach out to another resource to get the answer for you.
If you have a topic you'd like to see in a future Stores Corner article, please email your request to National Stores Director, Jeff Beamguard at jbeamguard@svdpusa.org.
Thank you!
Committee members are listed below by region:
West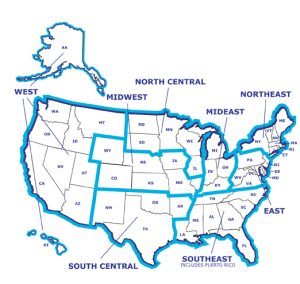 Diocesan Council of Phoenix: Mike McClanahan
mmcclanahan@svdpaz.org
Contra Costa County of California: Dominick Scibilia
dscibilia04@gmail.com
North Central
District Council of Madison: Brooke Trick
btrick@svdpmadison.org
Cabrini Conference, Wausau, WI: Kim Kuske
Kkuske@svdpwausau.org
Midwest
Council of St. Louis: John Walters
waltjlbt@aol.com
South Central
Archdiocesan Council of Galveston-Houston: Marie Schwartz
Marie.schwartz@svdphouston.org
Stores Director Austin: Rick Bologna
Rick.bologna@ssvdp.org
Southeast
Diocese of Palm Beach: Don Schiffgens
DSchiffgen@aol.com
Mideast
Council of Lansing: John Thelen
JThelen@svdpmideastregion.org
East
Council of Greensburg: Ed Markiewicz
esmarkiewicz@gmail.com
Northeast
Council of Rockville Centre: Joe Lazarich
JLazarich@SvdpLi.org
Archdiocese of Boston: Lori Malcom
LMalcom@svdpboston.org