St. Gianna Molla Parish was erected by Denver Archbishop Samuel J. Aquila in 2018. Fr. Jason Wunsch, who was the Parochial Vicar at Ascension Parish, was appointed as pastor of the new parish.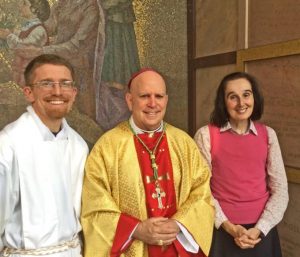 Fr. Wunsch and Archbishop Aquila are pictured here with Gianna Emanuela Molla, St. Gianna Molla's daughter, at her mother's grave in Mesero, Italy. Gianna Emanuela has since come to visit the parish in Denver and gave her testimony.
Fr. Jason was instrumental in initiating a Society of St. Vincent de Paul Conference at the new parish in April 2021. The Conference was approved by the National Council of the U.S. on April 28, the feast day of St. Gianna. The St. Gianna Molla parish boundaries cover a large area, including Denver International Airport, multiple new housing developments, and a rapidly growing population.
About St. Gianna Molla
St. Gianna Beretta Molla (1922-1961) was an Italian pediatrician and the tenth of 13children in her family. At the age of 20, she entered medical school in Milan and was diligent as a student and as a Catholic. While a medical student, she became a member of the Society of St. Vincent de Paul and was active in reaching out to the elderly and needy.
She specialized in pediatrics and received degrees in medicine and surgery from the University of Pavia in 1949. Gianna was devoted to babies and mothers and at the same time, the elderly and poor. She opened a medical office in Mesero near Magenta where she was born.
Gianna married Pietro Molla in 1955. Their fourth child, Gianna Emanuela Molla, was successfully delivered by Caesarean section in 1961, but Gianna died from complications. She insisted that the baby be saved at the risk of her own life.
Gianna was beatified by Pope John Paul on April 24, 1994, and officially canonized as a saint on May 16, 2004. Her husband and their children attended her canonization ceremony.
St. Gianna Beretta Molla's feast day is celebrated on April 28.