John Paul Brissette, a member of the SVdP National Youth Committee, and his brother, Francis Brissette, have Vincentian blood pulsing through their veins. Their mother, Renee, is the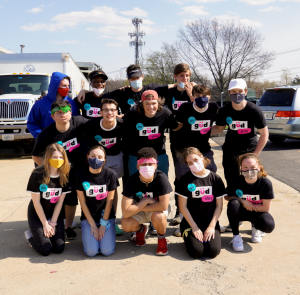 Executive Director of the Rhode Island Council, and along with their siblings Kat and Peter, they are founding members of Rhode Island's Youth and Young Adult Conference, called Next Gen. 
Over the past couple of years, John Paul and Francis have worked hard and become social media influencers. They publish family-friendly comedy content using various internet platforms like Twitch, TikTok, and YouTube.
"We grew from two brothers whose only follower was our mom, to a follower base of nearly two million in just over a year," said John Paul.
Recently, the brothers decided it was time they returned to their Vincentian roots. They wanted to use their internet fame to help those in their community who were suffering. "We knew we were given a gift from God, and with having some of the best fans in the world, we knew we needed to give back."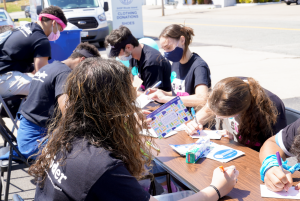 They hosted a 24-hour live stream on Twitch as a fundraiser for SVdP Rhode Island's Necessities for Neighbors program. The live-stream offered the brothers an opportunity to teach people about SVdP and the work that Vincentians do to help neighbors in need. They also spent time playing games and making people laugh, something they are very good at. 
"We raised over $2,500 and counting, and promoted an Amazon wishlist for people to purchase toiletries and other items for Necessities for Neighbors," said John Paul. "We also posted a video to YouTube promoting the stream, with ad revenue going directly to SVdP Rhode Island."
The following weekend, they promoted and sponsored the first-ever Do Gud Day. It was an event which promoted youth volunteering in a fun and competitive way.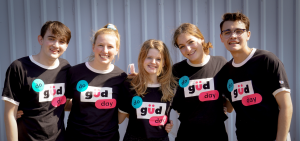 Sixteen youth and young adults were split into two teams, who held a friendly competition of filling backpacks with toiletries and notes to give out to people in need in the community through SVdP Rhode Island's Necessities for Neighbors program. Kat Brissette, their sister and SVdP National Board Member, designed the day by creating a program and resources that can be packaged and used in any location.  
"JP and I have been given a gift which every day feels like dumb luck. Our mantra is 'you were put on this world to make a difference,'" said Francis. "And when you are just two kids from Rhode Island, or young people anywhere,  you tend to struggle with figuring out just how you can make a difference. With our internet fame, which we believe is a gift from God and something we have always dreamed about, and our work with the Society, we now feel like we're finally making that difference in the world."
To watch the video about Do Gud Day, click here.
If you are interested in following the Brissettes and their social media accounts, you can find all that information on their website: https://broskiesstudios.com/.