Elizabeth Disco-Shearer, CEO of DSC, recently visited the tornado-ravaged areas of Rolling Fork and Silver Springs, MS and McEwen, TN, where she witnessed the ongoing recovery efforts of Vincentians in response to the devastating floods that had hit the area. She was struck by the extent of the damage in these towns, which left many dead and many homes and businesses flattened.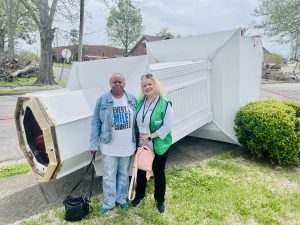 During her tour, Elizabeth had the opportunity to meet with local Vincentians and other community leaders, as well as the Chair of MS Voluntary Organizations Active in Disaster. The tornadoes that hit Rolling Fork and Silver Springs struck communities already grappling with high levels of poverty and social disadvantage, meaning that many survivors faced additional challenges in their recovery efforts, including limited access to resources, healthcare, and social support.
In response to these challenges, Elizabeth Disco-Shearer and her team have been working closely with local Vincentians and other community leaders to provide targeted support and assistance to those who need it most. This includes providing grants, training with Conference leaders, and technical support for recovery efforts, as well as helping to connect survivors with vital resources and services to address their basic needs.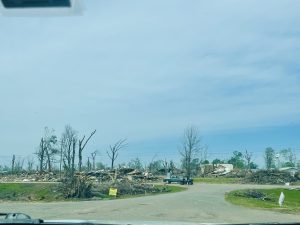 Despite the ongoing challenges faced by these communities, Elizabeth remains hopeful and committed to the long-term recovery process. By working together and providing sustained support and assistance, she believes that we can help to rebuild these communities and create a brighter future for all those affected by these devastating disasters. However, the recovery process will be a long and difficult one, requiring sustained support and commitment from everyone involved.
Elizabeth would like to express her gratitude to Council President Carrie Johnson, Carol and George Evans, Tommy Jordan, Donavan Guilbeau, and Henry Barclay for their Vincentian Servant Leadership in the field. Their dedication and hard work are an inspiration to us all, and their efforts are making a real difference in the lives of those affected by these devastating disasters.
Please pray for the Vincentians who are enduring so much tragedy in these impacted areas. To learn more about our other projects visit: www.svdpdisaster.org.