The National Council of the United States Society of St. Vincent de Paul is excited to welcome the new Associate Vincentian Formation Director, Sr. Consuelo Tovar, DC.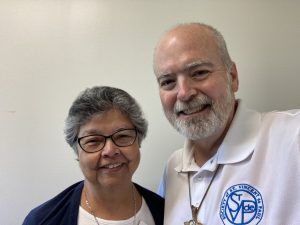 In her new role, Sr. Consuelo will work closely alongside the National Formation Director to help direct the spiritual formation and training to all members and especially to Hispanic and Latino members of the Society of St. Vincent de Paul in the United States.
Sr. Consuelo has been a member of the Vincentian Family as a Daughter of Charity for over 55 years. She comes to the National Office after 30 years of community organizing in the Southwest Region of the Industrial Areas Foundation of Texas and New Mexico. She is familiar with the landscape and needs of the poor and vulnerable throughout the southwest and the border of Mexico and Texas. Her organizing work focused on the formation and training of institutional leaders to help congregational leaders and nonprofits build their capacity to address the issues affecting the quality of life in their communities.
Over the years, she has been in the ministry of mission integration, leadership formation, and advocating for charity and justice with and for our brothers and sisters in need.
Sister's Vincentian formation as a Daughter of Charity and her experience in organizing easily transferred into the work of Mission Integration and Advocacy at Ascension DePaul Services in San Antonio. "I understood my role as Mission Integration Director to be that of helping create the framework in which spiritual growth and integration of the mission occurs for all of us," said Sr. Consuelo. "And more importantly, so that our Vincentian service reflects our work for and with the poor and vulnerable"
It was in San Antonio too, that Sister Consuelo had the opportunity to serve with the South Texas Council of the Society of St. Vincent de Paul as El Carmen's Conference Spiritual Advisor, Council Board member, and Chair of the Voice of the Poor Committee. "I am so grateful for those early experiences with the Society, and it has truly prepared me for this new opportunity to serve as Associate Director of Vincentian Formation. I look forward to working alongside fellow Vincentians who love and desire to deepen our Vincentian charism and mission."
If you would like to contact Sr. Consuelo, she can be reached at (314) 576-3993 ext. 228 or by email at ctovar@svdpusa.org.
Spanish Translation
El Consejo Nacional de la Sociedad de San Vicente de Paúl de los Estados Unidos se complace en dar la bienvenida a la nueva Directora Asociada de Formación Vicenciana, Sor Consuelo Tovar, DC.
En su nuevo cargo, la Hermana Consuelo trabajará en estrecha colaboración con el Director Nacional de Formación para ayudar a dirigir la formación espiritual y la capacitación a todos los miembros y especialmente a los miembros hispanos y latinos de la Sociedad de San Vicente de Paúl en los Estados Unidos.
Sor Consuelo ha sido miembro de la Familia Vicenciana como Hija de la Caridad por más de 55 años. Ella llega a la Oficina Nacional después de 30 años de organización comunitaria en la Región Suroeste de la Fundación de Áreas Industriales de Texas y Nuevo México. Ella está familiarizada con el paisaje y las necesidades de los pobres y vulnerables en todo el suroeste y la frontera de México y Texas. Su trabajo organizativo se centró en la formación y capacitación de líderes institucionales para ayudar a los líderes congregacionales y organizaciones sin fines de lucro a desarrollar su capacidad para abordar los problemas que afectan la calidad de vida en sus comunidades.
A lo largo de los años, ha estado en el ministerio de integración misionera, formación de liderazgo y abogando por la caridad y la justicia con y para nuestros hermanos y hermanas necesitados.
La formación vicenciana de la hermana como Hija de la Caridad y su experiencia en la organización se transfirieron fácilmente al trabajo de Integración y Defensa de la Misión en Ascension DePaul Services en San Antonio. "Entendí que mi papel como Directora de Integración de la Misión era el de ayudar a crear el marco en el que el crecimiento espiritual y la integración de la misión ocurre para todos nosotros", dijo la Hermana Consuelo. "Y lo que es más importante, para que nuestro servicio vicenciano refleje nuestro trabajo por y con los pobres y vulnerables"
Fue en San Antonio también, que la Hermana Consuelo tuvo la oportunidad de servir con el Consejo del Sur de Texas de la Sociedad de San Vicente de Paúl como Asesora Espiritual de la Conferencia de El Carmen, miembro de la Junta del Consejo y Presidenta del Comité de la Voz de los Pobres. "Estoy muy agradecido por esas primeras experiencias con la Sociedad, y realmente me ha preparado para esta nueva oportunidad de servir como Director Asociado de la Formación Vicenciana. Espero trabajar junto a otros vicencianos que aman y desean profundizar nuestro carisma y misión Vicentina".
Si desea comunicarse con la Hermana Consuelo, puede comunicarse con ella al (314) 576-3993 ext. 228 o por correo electrónico a ctovar@svdpusa.org.