Young Catholic Professionals: Thy Will be Done
https://ssvpusa.org/wp-content/uploads/2022/05/F39E0AE6-5B19-4F11-B885-4000DF9AA7E3.jpg
1421
1421
SVDP USA
//ssvpusa.org/wp-content/uploads/2021/02/svdp-usa-ssvp-int.png
Last week, a delegation of Young Adult Vincentians from across the country met with other Young Adult Catholics at the Young Catholic Professionals annual conference in Dallas, Texas. This year's theme, Thy Will Be Done, focused on guiding attendees in finding the right path through life's peaks and valleys to align themselves with God's will.
"The quote that stood out to me the most this week was actually the theme of the weekend, "Thy Will Be Done." It's more than just a prayer it's a call to action. Our entire life should be dedicated to doing God's will," said Francis Brissette, Vincentian with NextGen in Rhode Island and co-chair of the Communications Committee. "SVdP already does so much in answering that call to action and I was inspired by that quote to do as much as I can with SVdP in their mission because no organization truly lives by that quote "Thy Will Be Done" like SVdP."
The Society of St. Vincent de Paul was proud to be a sponsor of the conference's break out session, "The Making of a Saint." SVdP CEO, Dave Barringer, served as a mentor for the breakout where attendees and mentors broke into small groups, listened to the speaker, and then had time to evaluate a case study within their groups. With about 500 Young Adults Catholics in attendance, the National Council was blessed to send a delegation of 16 Young Adult Vincentians to represent the Society.
"Learning and hearing from other on how they are able to balance their work and spiritual life is instrumental in professional atmospheres we were taught to be Catholic Youth Adults not Young adult that are Catholic!" Said John Paul Brissette, Vincentian with NextGen in Rhode Island and chair of the SVdP Youth Committee.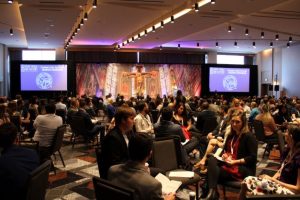 Throughout their time at YCP, SVdP's delegation worked to teach the other attendees about the unique opportunities that being a part of the Society can offer a young adult throughout their spiritual growth journey. They gathered contact information from attendees that were interested in learning more about SVdP.
"It was refreshing, inspiring, and motivating talking with other young Catholic people, exploring ways that we can connect and help each other put our faith into action," said Kat Brissette, National Board Member and Chairwomen of the Young Adult Committee.

At YCP, we were excited to introduce a new SVdP promotional item, SOCKS! The socks feature the Society's Essential Elements: Spirituality, Friendship, and Service. And they were available in both English and Spanish. The socks were a huge hit, and people loved showing off their newest fashion accessory, especially at the closing gala!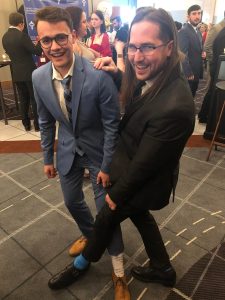 YCP offered SVdP's delegates such a great opportunity to explore their faith and rededicate themselves to their Vincentian work.
"The energy to engage people in a spiritual way is something I think will reinvigorate my Conference and possibly bring new Vincentians to the table to help our neighbors in need," said Jonathan Field, a Vincentian with the Our Lady Queen of Martyrs Conference in Attleboro, MA.
"Pray, ask, advertise: I realized I need to pray more for our efforts and ideas on how to better serve. I liked how it was stressed that SVdP empowers anyone to find local needs and will help carry out solutions," Said Kayla Palacios, Vincentian with the St. Philip Neri Conference in Midwest City, OK. "I plan to ask others if they receive any common requests/themes in my area that are not addressed and see how we can help. Lastly, always letting others know about our organization to get the word out."
It was an exciting opportunity and we look forward to continuing to encourage the involvement of Young Adults in the work of SVdP to helping those in need. We hope that through connections made at YCP, we will welcome new SVdP members and hopefully see some of our new friends at the SVdP National Assembly in Baltimore!
"YCP was truly life changing where I was able to experience community and the Vincentian Spirituality," said Tina Tacati, Vincentian with the St. Eugene Conference in Brownsville, TX.