Disaster Services Update
https://ssvpusa.org/wp-content/uploads/2021/10/Sepia-Grayscale-Family-Travel-Photo-Collage.jpg
2000
1600
SVDP USA
//ssvpusa.org/wp-content/uploads/2021/02/svdp-usa-ssvp-int.png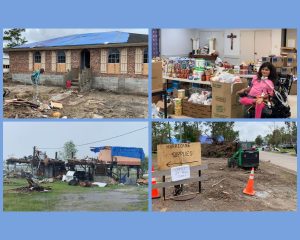 Disaster Services Corporation (DSC) has been incredibly busy this year, responding to the devastating winter storms, wildfires, floods, tornados, and hurricanes which have compounded the suffering of Americans who are dealing with the second year of a deadly pandemic.
DSC, while having a modest team, has had a major impact in Vincentian communities nationwide. More than ever, DSC has focused their relief efforts on supporting SVdP Councils and Conferences, providing hundreds of thousands of dollars in cash cards, tarpaulins, tents, generators, hygiene kits, hotel stays, food commodities, and disaster case work.
Elizabeth Disco-Shearer, Chief Executive Officer, recently visited the Council of Nashville, Tennessee to tour the devastation from the catastrophic fall floods in Waverly, TN and worked with the Nashville Council, local government officials, and partners on standing up DSC's national recognized recovery program, House in the Box.
Two months ago, one of the strongest hurricanes ever to make landfall in the United States hit Louisiana and then traveled from LA to PA, NY, NJ, and other eastern states. Hurricane Ida killed 115 people. Kevin Peach, Chief Operating Officer, visited Louisiana to answer the call for support from the Archdiocesan Council of New Orleans and the Council of Houma-Thibodaux. He visited several key locations, met with FEMA and state leadership, and joined partners in recovery planning for the region. Currently, Vincentians across the Southeast and North Central Regions have come to the aid of their fellow Vincentians in manning four Parish Recovery Assistance Centers (PRACs) across Louisiana. They are providing cash cards, handing out tarpaulins, and registering survivors for FEMA assistance.
Anthony Pluchino, Chief Program Officer, continues to lead the State of Oregon with the Disaster Case Management Program (DCMP). He visited Oregon and met with the ODHS management, state sponsored DCMs, Catholic Charites DCMs, Glide Revitalization DCMs, and Santiam Service Integration team. In addition, he met with leaders of the community and LTRGs to discuss programs and special projects that can help the survivors recover in the community. Anthony shared his experience on the devastation that he witnessed from the wildfires. At some of the sites he visited, there was nothing left standing except for a stone fireplace or chimney. Acres of trees burnt from the fire have been cut down and trucked away. Since the trees have been cut down, there is growing concern of potential mudslides. At times, Anthony reports that it was hard to breathe because of the smoke still hanging over the mountains. The total Value of Services provided to date is in excess of $ 250,000. Our partners are working very closely with the LTRGs to obtain much needed resources for the survivors.
Eastern Region

NJ Hurricane Ida
PA Hurricane Ida
WV Floods
Mideast Region
KY Floods
Southeastern Region
TN Floods
FL Hurricane Ida
GA Hurricane Ida
LA Hurricane Ida
South Central
Western Region
CA Wild Fires
NV Wild Fires
Please keep all of the disaster survivors across the nation, as well as DSC's staff and volunteers in your prayers.