SVdP Thrift Store Challenge
https://ssvpusa.org/wp-content/uploads/2021/09/creve_coeur_opening103-1.jpg
738
416
SVDP USA
//ssvpusa.org/wp-content/uploads/2021/02/svdp-usa-ssvp-int.png
When people hear the name "St. Vincent de Paul," their first thought is often the thrift store in their neighborhood that bears that name.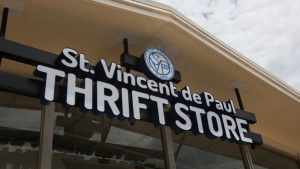 We know that the Society of St. Vincent de Paul has numerous ways we help our neighbors in need. However, our Thrift Stores are an integral part of our assistance model. You may think its a great place to go to find a discount sweater, or some used cookware, but have you ever thought about how important the SVdP Thrift Store can be to someone who is re-entering the workforce after being incarcerated?
"The U.S. releases over seven million people from jail and more than 600,000 people from prison each year. However, recidivism is common. Within 3 years of their release, 2 out of 3 people are rearrested and more than 50% are incarcerated again," said Jeff Beamguard, Stores Support Director. "50 percent of people are returning to a normal life and paying taxes again.  I have worked with thousands of people coming out of prison and jails. St. Vincent de Paul Thrift Stores provide a place for individuals to find clothing and accessories to find a job! SVdP has stores from coast to coast to give you a hand up, not a handout!"
Recently, the SVdP National Council's Marketing and Communications intern, Lili Pino, decided to focus on just that. She dedicated her internship's final project to bringing awareness to the Society's Immersion Program by collaborating with Heather Fullerton, Associate Director of Poverty Programs / Director of Immersion Program, in the first-ever SVdP Thrift Store Challenge.
"Returning to the workforce after incarceration can be a challenging experience. SVdP thrift stores can help ease the difficulty by offering clothes, shoes, accessories, and more at an affordable price," said Fullerton. "Anyone who has applied or interviewed for a job understands how stressful it can be to find professional clothing… Add an additional layer of being someone who is returning from incarceration and the stress can be overwhelming. Thankfully, job hunters can find a large selection of business attire at SVdP thrift stores. Items like ties, blouses, blazers, dresses, belts, and accessories are all available for a low price."
Together, they each put together an outfit from the Thrift Store to show that returning citizens can find clothing appropriate for job interviews at affordable prices. Watch the video to see what they found!
Click here to learn more about the Immersion Program.
Click here to find your local SVdP Thrift Store.