In December of 2021 an EF4 tornado struck several towns in Western Kentucky injuring 533 people and killing 57 people. The following summer season, torrential rains and deadly flooding struck in the same region of the state, impacting 14 counties and three cities declared local states of emergency. At least 37 people died, including four children.
Disaster Services Corporation (DSC) teamed up with the Diocesan Council of Western Kentucky and the American Red Cross in their disaster recovery operations through the nationally recog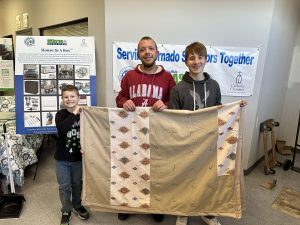 nized House in a Box™ program. Through national partnerships, DSC was able to secure $1,700,000 in grant funding and $200,000 in in-kind donations from Good360 in the form of toys. To date, over 82 families have been served with 418 more families to go. In addition, SVdP Diocesan Council of Western Kentucky is leveraging their warehouse space to distribute toys to parents who otherwise would be unable to provide toys for their children for Christmas or birthdays. Families can also pick up hand-made quilts from SVdP's partner agencies.
St. Vincent DePaul Diocesan Council of Western Kentucky CEO, Richard Remp-Morris says, "This has been a humbling experience, meeting the tornado survivors and hearing their horrific stories. I've felt an overwhelming sense of gratitude and support in serving those in need with fellow Vincentians, Disaster Services Corp, Catholic Charities, VOAD (Voluntary Organizations Active in Disasters), and Long-Term Recovery groups.
Kevin Peach, Chief Operating Officer at Disaster Services Corporation, stated that "DSC is an awe of the resiliency of Kentuckians and we continue to support Kentuckians on their road to recovery. We've helped 82 families so far, help us assist more and as many more as needed to help these families and communities completely recover."
To date the SVdP Diocesan Council of Western Kentucky has served more than 82 families with our grant funding and anticipate serving as many as 500 families' total. The ability to serve more families will be possible if additional funding is raised," says Remp-Morris.
One family that was supported by SVdP is the the Doty family from Fulton, Kentucky which was one of the areas devastated by the December 2021 tornado. While most of their possessions were lost or ruined that fateful night, they were able to rebuild their home. For several months they lived with family and later moved into a camper. It was crowded with seven kids and two adults.
Colin Doty said, "This is a gift from God for us. You can imagine how tight money is with seven kids but this is helping so much. Most everything we had is gone. Tonight everyone will have a bed and mattress to sleep on."
DSC is incredibly thankful for the Diocesan Council of Western Kentucky and their good works to support those in their greatest time of need. Supporting disaster survivors at the end of the recovery life cycle is arduous work that often goes unnoticed and forgotten about by many who have not been impacted by disaster. May God bless you for your grace and kindness that has been extended to the impacted community.
Learn more about how you can help support our mission at: www.svdpdisaster.org